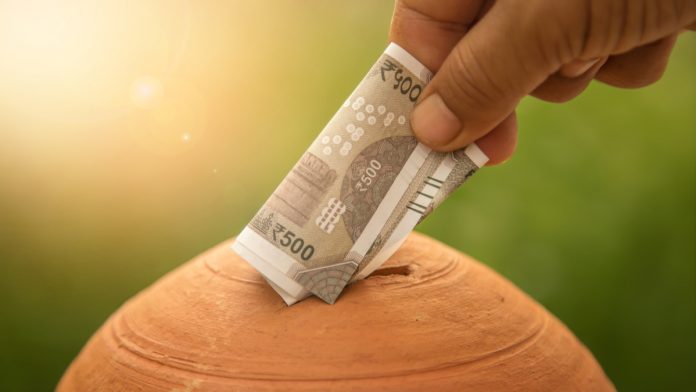 Indian Rupee (INR) tracks domestic equities higher
RBI foreign currency reserves ease from a 9-month high
US Dollar (USD) closed higher versus major peers on Friday
US core PCE inflation remains sticky
The US Dollar Indian Rupee (USD/INR) exchange rate closed flat on Friday, snapping a two-day losing streak. The pair fell -0.06% in the previous session, settling at 81.69. USD/INR settled on Friday +0.02% at 81.72 and traded in a range of 81.70 to 81.87. The pair lost 0.4% across the week after booking gains in the previous week.
The Rupee gained across last week, as it tracked domestic equities higher. Upbeat earnings from large Indian companies helped the Sensex rally across the week, booking its sixth straight weekly gain.
Data from the Reserve Bank of India showed that Indian foreign exchange reserves eased by $2.17 billion to $584.25 billion, after hitting a 9-month high in the previous week.
Separately oil prices fell across the week as investors fretted that a recession in the US could hurt the oil demand outlook.
The US Dollar held steady against the Rupee but rose against major peers. The US Dollar Index, which measures the greenback versus a basket of major currencies, settled +0.17% higher on Friday, the second straight day of gains. The USD fell -0.14% across the week.
The USD rose against its major peers on Friday after U.S. data showed that inflation remained sticky. Core PCE, which is the federal reserve's preferred measure for inflation, shared that underlying inflation rose 0.3% in March compared to the prior month and 4.6% compared to a year earlier, this was down only very slightly from 4.7% in February.
Terry and false expectations that the Federal Reserve will raise interest rates by a further 25 basis points next week in order to tackle persistently high inflation.
There was a silver lining in the report and that was the deceleration in the closely watched service sector inflation.
Meanwhile, consumer spending was showing signs of weakening which suggests households are taking more care over what they spend on and cutting back on discretionary items, which means that the Fed's steep rate hikes could be starting to impact households.
---