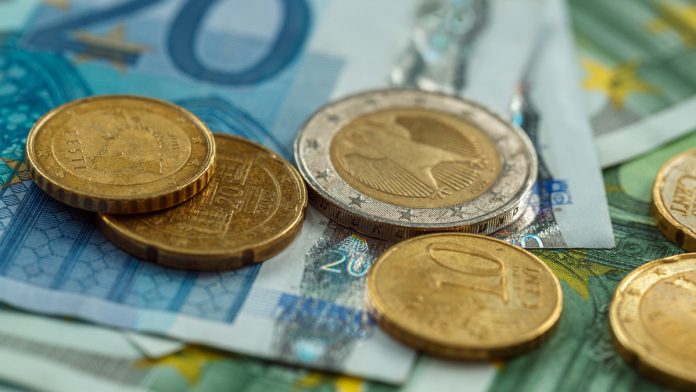 The euro inched higher versus the US dollar on Thursday's Thanksgiving session. The euro US dollar exchange rate increased 0.1% to close at US$1.1012. The pair is on track to have lost 1.2% across the month of November after gaining an impressive 2.3% in October. The pair is edging cautiously higher on Friday.
German Inflation
The euro trade with a positive bias in the previous session despite disappointing German inflation data. German inflation, as measured by the consumer price index showed that inflation decreased by -0.8% month on month in October. This was below the -0.6% decline that analysts had predicted. On an annual basis inflation increased just 1.1%, in line with the previous month but short of the 1.2% that market participants had been expecting. The rate of inflation is significantly below the central bank's 2% target.
Weak inflation would usually drag on demand for a currency because in low inflation environments central banks are more inclined to ease monetary policy.
Germany's weaker inflation figures come after a busy week for German data this week. At the beginning of the week data showed that consumer and investor sentiment ticked higher. Last week data showed that the German economy narrowly avoided a recession. The economy grew 0.1% in the third quarter. Yet despite signs that the German economy could be bottoming out after contracting in the second quarter, inflation is stagnant.
German Retail Sales
Germany will remain in focus today as investors look towards the release of German retail sales data and the German unemployment report. Analysts are expecting retail sales to increase 0.2% month on month in October, up from 0.1% in September. On an annual basis, retail sales are expected to have increased a solid 3% in October, down from 3.4% in September. Investors have been concerned that the deep contraction in the German manufacturing sector would spill over into the consumer area of the economy. So far data has not shown this to be the case. A strong retail sales reading would further support the idea that the German service sector is proving to be resilient and is keeping the Germany economy in expansion territory.
Eurozone Inflation To Drag On Euro?
Another notable release today is eurozone inflation. Analysts are expecting consumer prices in the eurozone to have declined -0.4% month on month in November, down from 0.1% increase in October. Year on year inflation is expected to have increased just 0.7% as the bloc moves further towards inflation stagnation. In October inflation grew just 0.9% on an annual basis.
The eurozone continues to struggle with low inflation despite the European Central bank cutting interest rates in September and restarting its bond buying programme. The easing measure are showing no signs of lifting inflation two months after they were implemented. Mario Draghi called for patience at his final ECB monetary policy meeting, however some policy makers will be getting nervous with inflation so lacklustre. A weak reading could fuel calls for increased fiscal spending from European governments. This would boost the euro.
Dollar Subdued For Second Day
Dollar movements were subdued in the previous session owing to the Thanksgiving holiday. Today is just a half day in the US stock markets although most take it as an extended holiday. For this reason, volumes are also expected to be low today.
Trade remains in focus, although Investors have seen no immediate reaction in the US dollar to the US — China trade talks potentially hitting a road block after President Trump signed the Hong Kong bill into law.
The dollar has barely reacted to signs of weakness across Asia. Stock markets dipped lower after data showed weak production numbers from South Korea and Japan. South Korea's manufacturing sector declined 1.7% in October whilst Japan's monthly decline hit 4.2%. These figures not only signal weakness in the particular country but also of the region as a whole. These countries are vital exporters of goods and equipment to China and other Asian countries. Therefore, the slowdown in Japan and South Korea paints a gloomy picture. These data would usually weigh on risk sentiment and lift the safe haven dollar. However, owing to Thanksgiving any dollar reaction has been muted.
Black Friday Spending Could Lift Dollar
Today is Black Friday. The shopping day on which retailer traditionally moved into the black by making more money than they were spending. Investors will follow the data on Black Friday closely. This is because it helps to gauge the health of the US consumer. A strong consumer often spends more, which is supportive of the US economy in addition to being an inflationary pressure. Therefore, signs of strong spending could boost the dollar.
.
What do these figures mean?
When measuring the value of a pair of currencies, one set equals 1 unit and the other shows the current equivalent. As the market moves, the amount will vary from minute to minute.
For example, it could be written:
1 EUR = 1.12829 USD
Here, €1 is equivalent to approximately $1.13. This specifically measures the euro's worth against the dollar. If the U.S. dollar amount increases in this pairing, it's positive for the euro. 
Or, if you were looking at it the other way around:
1 USD = 0.88789 EUR
In this example, $1 is equivalent to approximately €0.89. This measures the U.S. dollar's worth versus the euro. If the euro number gets larger, it's good news for the dollar.
---
Currencylive.com is a news site only and not a currency trading platform.
Currencylive.com is a site operated by TransferWise Inc. ("We", "Us"), a Delaware Corporation. We do not guarantee that the website will operate in an uninterrupted or error-free manner or is free of viruses or other harmful components. The content on our site is provided for general information only and is not intended as an exhaustive treatment of its subject. We expressly disclaim any contractual or fiduciary relationship with you on the basis of the content of our site, any you may not rely thereon for any purpose. You should consult with qualified professionals or specialists before taking, or refraining from, any action on the basis of the content on our site. Although we make reasonable efforts to update the information on our site, we make no representations, warranties or guarantees, whether express or implied, that the content on our site is accurate, complete or up to date, and DISCLAIM ANY IMPLIED WARRANTIES OF MERCHANTABILITY OR FITNESS FOR A PARTICULAR PURPOSE. Some of the content posted on this site has been commissioned by Us, but is the work of independent contractors. These contractors are not employees, workers, agents or partners of TransferWise and they do not hold themselves out as one. The information and content posted by these independent contractors have not been verified or approved by Us. The views expressed by these independent contractors on currencylive.com do not represent our views.