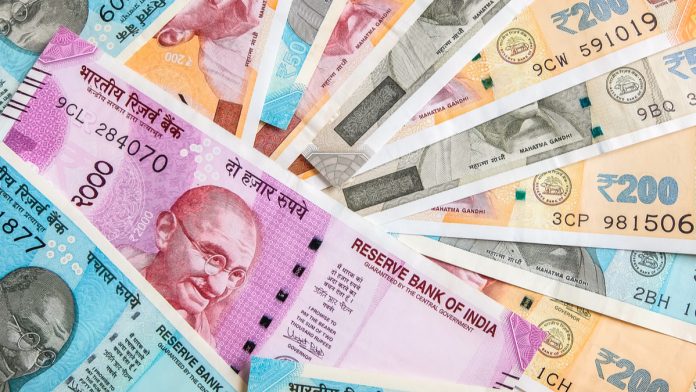 Indian Rupee (INR) rises after 3-days of losses
Indian manufacturing PMI rose to a 2.5 year high
US Dollar (USD) falls after mixed data
Fed speakers hint to a June skip
The US Dollar Indian Rupee (USD/INR) exchange rate is falling, snapping a three-day winning run. The pair rose 0.02% yesterday, settling on Wednesday at 82.68. At 16:30 UTC, USD/INR trades -0.38% at 82.36 and trades in a range of 82.36 to 82.73.
The rupee is pushing higher, supported by data which showed that India's factory output expanded at the fastest pace since October 2020 in May owing to robust demand and output, whilst improved optimism saw companies hiring at the quickest pace in six months.
While regional peers such as China and Japan have seen their manufacturing sector struggle India's economy has enjoyed solid growth in the manufacturing sector over the past few quarters.
Factoring PMI rose 258.7 in May, up from 57.2, defying expectations of a drop to 56.5.
The US Dollar is falling across the board. The US Dollar Index, which measures the greenback versus a basket of major currencies, trades -0.42% at the time of writing at 103.83.
The US dollar is falling across the board after several Federal Reserve policymakers hinted towards skipping a rate hike in June under the investors digest a mixed batch of data.
On the one hand, ADP private payrolls showed that 278,000 jobs were created in May. This was well above the 170,000 that economists had forecast. But it was down slightly from the 296,000 in April.
Stop list claims were also better than expected, rising to 232,000 up from 230,000 but an improvement on forecasts of 200 and 35,000.
The stronger jobs data is supportive of a more hawkish Federal Reserve ISM manufacturing PMI was weaker than expected at 46.9, down from 47.1 in April. The data highlights the two-speed economy in the US what services still seeing solid growth and manufacturing is contracting.
The data comes after few Federal Reserve officials suggested that the Fed may skip hiking interest rates in June in order to assess the data with the aim of hiking interest rates again in July.
---