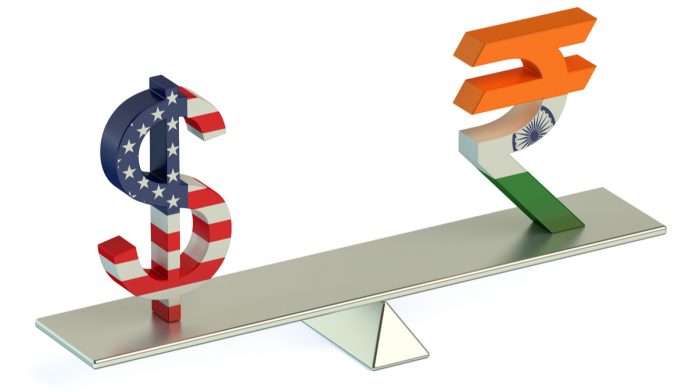 The US dollar is higher against the Indian rupee on Thursday.
Indian rupee drops alongside global risk assets to 2-week low
Dollar holds gains after weekly jobless claims rise back over 1 million
Fed minutes overnight less dovish than expected
India conducts record number of coronavirus tests in 24hrs
USD/INR was higher by 23 pips (+0.32%) to 75.083 as of 3pm GMT. The overnight rebound took the US dollar-Indian rupee exchange rate higher on the week by +0.24%.
The currency pair jumped from near monthly lows to come close to new monthly highs in the space of 24 hours. The gains took it back over the key 75.0 threshold.
INR: Rupee pulled down by risk-off sentiment
A general sell-off across Asian and European markets saw the Indian rupee drop over rekindled fears about the strength of the US economy following Fed meeting minutes. Those fears were bolstered on Thursday after US economic data missed estimates and the European Central bank questioned the  rise in markets relative to the economic data.
In India's own economic fight, there was good news in the country's testing capability with a record number of tests carried out in 24 hours. 9,18,470 people were tested Wednesday through Thursday, according to the Union health ministry.
USD: Dollar holds gains despite soft data
The US dollar maintained its strength from yesterday across most major currencies, though did not follow through, perhaps limited by disappointing economic data.
US initial jobless claims reached 1,106,000 when a reading of 920,000 was estimated. That meant a reading back above the psychological 1 million per week. The number of Americans claiming unemployment insurance in a week had only just dropped below 1 million last week. One piece of data doesn't make trend but it is a setback. The good news was that continuing jobless claims were 14,844,000 versus the 15,000,000 estimate.
There was also the Philadelphia Fed business outlook survey. The general business activity index fell to 17.2 versus 24.1 last month.
---