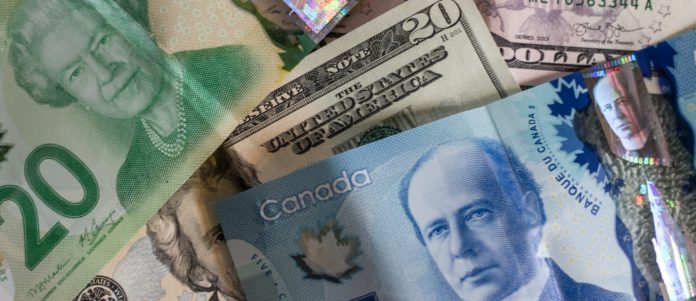 Japan records its worst-ever GDP contraction.

The difference in the Federal Reserve and Bank of Canada policy stance affecting USD/CAD

The pair below a pivotal point
Japan's second-quarter GDP data showed that the economy had suffered its most severe economic contraction to date. The Nikkei 225 stock index and the Japanese Yen suffered on the announcement.
The dollar continued its recent downtrend, as shown in the dollar index against a basket of currencies. The index, DXY, is below the psychologically important 93 levels. While gold is back above 1,950 dollars for an ounce and silver is also back in strength with 1.7 Percent bounce; the US Treasury yields on 10-year notes are down below 70 basis points.
As the economic docket is comparatively light, the focus would be on the US-China relations, especially after the two mightiest economies on the planet failed to adhere to a scheduled trade review meeting between them, over the weekend.
USD/CAD Might Face Further Downside
The current decline in USD/CAD – down by 10 Percent from the multi-year high of 1.4669 posted on March 19 – is attributable to the highly dovish stance of the US Fed in response to the economic travails caused by the coronavirus.
The members of the US Fed are now considering letting inflation climb above two Percent. The dovishness is to compensate for the period in which the inflation stayed below that. Comments from Minneapolis Federal Reserve President Neel Kashkari on similar lines reflect this thinking and have thus ruled out any chances of monetary tightening by the Fed.
This intentional allowing of inflation overshoot could drive down the US dollar further against the Canadian dollar as Canada's central bank has adopted a much more conservative approach to inflation targeting than the Fed.
Hence, it is reasonable to expect the Canadian dollar to strengthen against the US dollar if consumer price beats the market estimate of 0.5 Percent YoY rise in July.
Canada Economy Exceeds Expectations
Apart from the monetary approach by its central bank, the strong performance by the economy also supports the Canadian dollar.
There is a high correlation between the decline in USD/CAD and the significant positive surprises posted by the Canadian economy compared to the US economic performance.
But, also noticeable is the lack of complete inverse relationship when US economy positive surprise exceeds those posted by its Canadian counterpart.
This trend is worth monitoring and could add more importance to the upcoming retail sales and ADP employment data for July.
We can expect better than expected economic releases to further USD/CAD downslide.
---