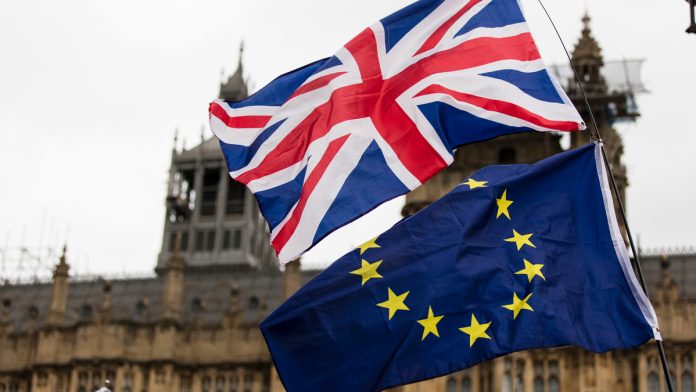 The British pound is flat against the euro on Thursday.
Market sentiment strong after US jobless claims fall below 1 million
Pound consolidates in wake of UK recession-induced drop
Forex markets steady in wake of huge $26 billion US Treasury auction
GBP/EUR was higher by 10 pips (+0.09%) to 1.1066 as of 3pm GMT.
There was very little movement in the currency pair, which traded in a 25pip range for most of the day. Yesterday it had dropped -0.5%
GBP: New Brexit talks next week
The pound was consolidating on Thursday following a dramatic GDP decline yesterday that saw the UK drop into a deep recession for the first time in 11 years. The extent of the economic decline in the second quarter (-20.4%) served to show the uphill battle the UK faces. For the pound to make sustained gains over the euro, there has to be a belief among traders that the UK is not on a delayed path to follow Europe toward negative interest rates, narrowing the very small yield advantage that currently exists.
Sterling got some support from the news that the next round of UK-EU post-Brexit negotiations take place next week (18-21 August). The mood music around the negotiations has been more positive of late, though peppered with warnings that big gaps remain in come key areas of debate.
EUR: US issues more bonds, German yields rise
The huge debt auctions taking place in the United States –today for $26 billion 30-year Treasury bonds is affecting government bond yields, which is spilling over into forex markets.
The extra supply saw investors sell government bonds in the open market this week, causing yields to rise. That should have benefited the US dollar, but yields in Europe moved higher too – and by more. German yields hit a 6-week high on a 10-year and 30-year basis – tightening the gap between US and German interest rates.
European markets closed mostly lower after a four-day win streak but overall sentiment in market seemed to support Sterling after US initial jobless claims dropped below 1 million for the first time since the beginning of the pandemic.
---