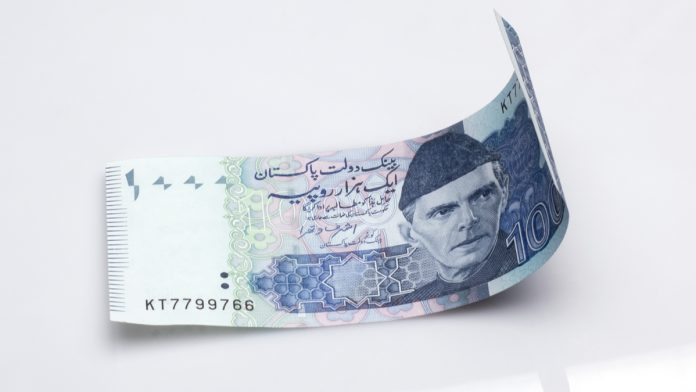 Pakistani Rupee (PKR) drops as coronavirus spread accelerates
Pakistan Government warns 1.2 million in Pakistan could be infected by August
US Dollar (USD) looks to PMI data, which is expected to show continued improvement in the economy
US Dollar Pakistani Rupee exchange rate (USD/PKR) trades at 167.40, top of the daily range
The Pakistani Rupee continues to tumble versus the US Dollar on Tuesday. At 08:15 UTC, USD/PKR trades +0.4% higher at 167.40. This at the top end of the daily traded range of 166.40 – 167.40.
The US Dollar Pakistani Rupee is on track for its 6th straight week of gains as coronavirus cases in Pakistan keep growing.
Coronavirus is spreading in Pakistan at one of the fastest rates in the world. Whilst hospitals are turning patients away, the government is continuing with its plans to reopen the country in an attempt to salvage the devastated economy.
The economy can't withstand an open-ended strict lockdown. However, the rapid spread of the virus over the past few weeks is unnerving investors. New cases in Pakistan jumped from 2,000 – 3,000 a day in late May to 6,800 a day by mid-June. So far 180,000 have been infected. The government warned that the number of cases could reach 1.2 million people in August.
Earlier this month the World Health Organisation warned Pakistan that it was in the top 10 countries in the speed of the spread of the virus and it faced devastating consequences from opening prematurely. The WHO recommended that the Pakistan government alternated between two weeks or lockdown and two weeks of opening.
The US Dollar is trending lower versus its major peers as risk sentiment remains buoyant. Whilst some US states such as Florida, California and Texas continue to record increases in daily coronavirus cases, investors are focusing on reopening optimism.
Attention will now turn to US purchasing managers index (PMI) data to be released later today. Analysts are expecting the data to show that US economy continued to rebound as lockdown measures eased. Forecasts are for manufacturing PMI to increase to 48 in June, up from 39.8 last month. Activity in the dominant service sector is expected to print at 46.5, up from 37.5 as more shops and services reopen. A stronger than forecast print could see the safe haven US Dollar dip lower.
---