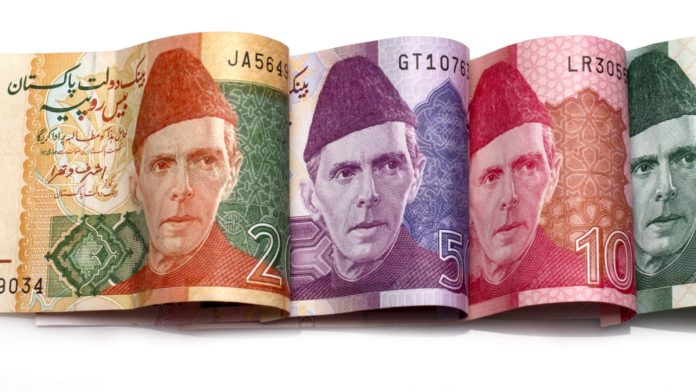 Pakistani Rupee (PKR) under pressure amid low foreign exchange inflows
Textile exports declined -36.5% in May, after falling 64.5% in April
Safe Haven US Dollar (USD) eases versus major peers, Federal Reserve Jerome Powell testimony in focus
At 09:15 UTC, US Dollar Pakistani Rupee exchange rate (USD/PKR) trades +0.2% at 165.65
The Pakistani Rupee is heading lower versus the US Dollar for a second straight session on Wednesday. The Rupee settled on Tuesday -0.17% at 165.32.
At 09:15 UTC, USD/PKR is trading +0.2% at 165.65. This is towards the upper end of the daily traded range of 163.95 – 165.80.
The Pakistani Rupee has been under pressure across recent weeks, falling -1.2% versus the US Dollar in May, extending those losses by an additional -1.9% so far in June. The Rupee is weakening as inflows remain subdued, from a decline in exports and weak growth in workers remittances.
Pakistan's textile and clothing exports tumbled for the third consecutive month in May, falling 36.5% year on year to $751.1 million, down from $1.1 billion. Whilst this is an improvement on April's 64.5% decline to $403.8 million it clearly reveals the drop in foreign currency inflows.
The Rupee needs foreign exchange inflows to lift foreign currency reserves and ease pressure on the US Dollar, Pakistani Rupee exchange rate.
Inflows from international financial institutions could offer some support to the Rupee in the short term. Just last week the Asian Development Bank approved a $500 million loan to help Pakistan fight the coronavirus pandemic.
After a stronger start, the US Dollar is trending lower versus its major peers as the European session progresses. Risk sentiment is starting to improve with US stock markets pointing to a stronger start and the safe haven US Dollar falling out of demand.
Strong US data, in the previous session, is liftinghopes that a quick economic recovery could still be possible. US retail sales surged a record breaking +17.7% in May, compared to the month earlier. This more than made up for the record -16.6% decline in April.
However Federal Reserve Chair, Jerome Powell remained cautious when he testified before Congress, warning that output and unemployment levels could take a long time to recover to pre-coronavirus levels.
Investors will watch Jerome Powell as he appears before Congress again today.
---