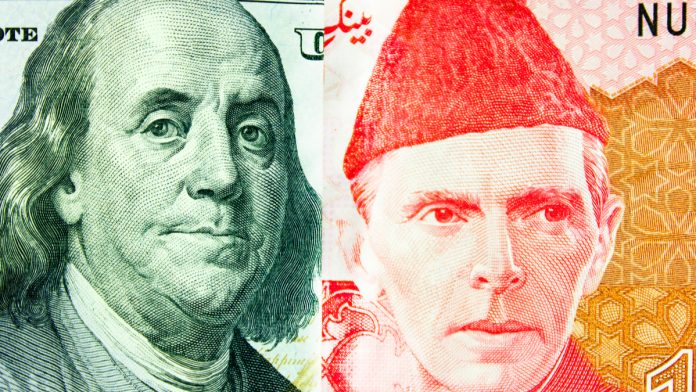 Pakistani Rupee (PKR) drops following warnings of 1 million covid-19 cases by the end of July
Risk on mood owing to Fed & Trump stimulus reports is being ignored by Pakistani Rupee investors
US Dollar (USD) look ahead to retail sales, record surge of 8% forecast
At 09:15 UTC, US Dollar / Pakistani Rupee (USD/PKR) trades +0.75% at 165.32
The Pakistan Rupee is slipping lower versus the US Dollar after holding more of less steady for the last two sessions.
At 09:15 UTC, USD/PKR is trading +0.75% at 165.32. This is at the upper end of the daily traded range of 163.87 – 165.32.
The Pakistan Rupee is weakening despite a broad risk on sentiment in the financial markets following additional stimulus from the US Federal Reserve and talk of further stimulus from President Trump.
Concerns are growing over the rising number of coronavirus cases in Pakistan. Experts  expect the number of coronavirus cases in Pakistan to reach 1 million by the end of July, amid a warning that people are ignoring the rules on social distancing.
Government restrictions were violated by some during Ramadan and ahead of the Eid festival in late May. Pakistan has since seen its covid-19 cases soar. Pakistan's planning minister Asad Umar warned of the sobering figures. Stricter lockdown rules could have a devastating impact on the Pakistan economy.
The US central bank, yesterday, announced that it will start buying up corporate bonds as part of its support package for the US economy. The Fed's commitment to step up efforts to keep lending markets running smoothly has calmed renewed nerves over the spread of coronavirus.
The Trump administration added to the improved mood in the broader market by indicating that it is considering a $1 trillion infrastructure package. This would see the development of traditional projects such as roads and bridges, but also the 5G network and local broadband.
Investors will now look ahead to the release of US retail sales data for May, as US states started to ease lockdown measures. The same month saw 2.5 million Americans return to work. As a result, retail sales are expected to surge by a record 8% in May. This would only make up a fraction of the declines in retail sales from March and April. However a strong reading would show that the US  economy is on the right track. This could boost risk sentiment further, dragging on demand for the US Dollar.
---