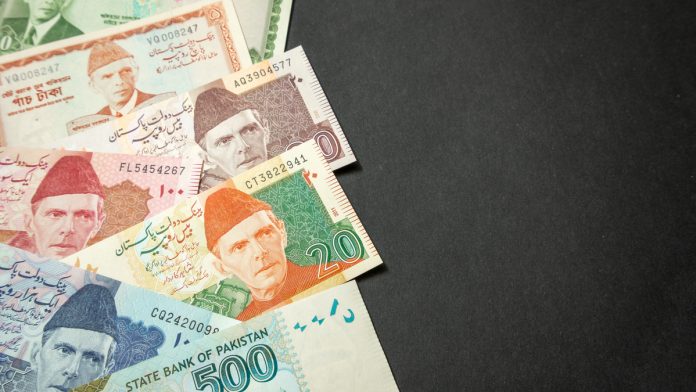 Pakistani Rupee (PKR) is under pressure as concerns over government priorities grow
WHO recommends a second lockdown
Safe haven flows to US Dollar (USD) increase amid second wave fears
At 09:15 UTC, US Dollar Pakistani Rupee (USD/PKR) exchange rate trades +1% AT 165.05
The Pakistani Rupee continues to nosedive versus the US Dollar on Monday, extending the downwards trend from the previous week. The Rupee dropped by 0.5% versus the greenback last week, its fourth straight week of losses.
At 09:15 UTC, USD/PKR is trading +1% at 165.05. This is towards the upper end of the daily traded range of 163.75 – 165.12
The Rupee is trending lower amid growing concerns over Imran Khan government's priorities, just days ahead of the Budget. The government is proposing an 11.9% increase in the country's defence budget at a time when the economy is contracting sharply and the covid-19 pandemic spirals out of control.
Pakistan's latest economic survey, carried out by the government, revealed that the county is heading towards widespread unemployment due to the coronavirus lockdown measures implemented to control the spread of the virus.
The economic survey for 2019-20 estimated 1.4 – 18.5 million people would lose their jobs in the country.
Whilst the lockdown ended a month ago, WHO urges Pakistan to return to lockdown as the number of cases reaches 144,478 and the death toll passes 2700.
Risk aversion in the broader financial market was also weighing on demand for the riskier Pakistan Rupee whilst boosting demand for the safe haven US Dollar.
Risk sentiment has taken a hit as investors grow nervous of a second wave of coronavirus infections derailing the fragile global economic recovery. In the US, 24 states have experienced a steep rise in the number of daily coronavirus cases, with Florida and Arizona seeing cases grow by a record amount.
An outbreak of 100 cases in Beijing over the weekend is also raising concerns of a resurgence in the pandemic, in the world's second largest economy. Parts of Beijing have been put under lockdown.
These latest figures have dampened the prospect of any V-shaped recovery, highlighting just how fragile the global recovery is. US stock markets are pointing to a 1.5% decline on the open.
---