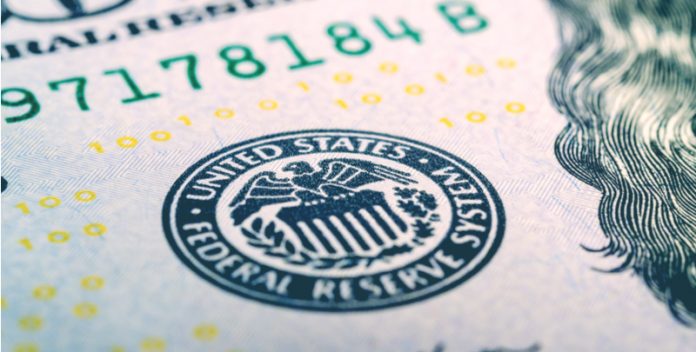 US Dollar (USD) lower after inflation miss & ahead of Fed rate announcement
Quarterly GDP & inflation projections in focus
Australian Dollar (AUD) supported as consumer confidence returns to pre-coronavirus levels
At 14:00 UTC, AUD/USD is trading +0.6% at US$0.70
The Australian Dollar is gaining traction on Wednesday, rising above US$0.70 after a move lower on Tuesday. The Australian Dollar US Dollar exchange rate settled in the previous session -0.8% at 0.6962, snapping an eight-day winning streak.
At 14:00 UTC, AUD/USD is trading +0.6% at US$0.7005, towards the upper end of its daily range of US$0.6933 – US$0.7019 as the sell-off in US Dollar intensifies ahead of the Fed rate announcement later.
US inflation as measured by consumer price index (CPI), fell for a third straight month in May as demand remained subdued amid the lockdown and recession caused by the coronavirus pandemic. CPI dropped -0.1% in May after declining -0.8% the previous month. Analysts had expected inflation to be flat. On an annual basis inflation climbed just 0.1% higher, below the 0.2% increase forecast.
Investors will now turn their attention to the Federal Reserve, which will give its policy announcement later today. The Fed is not expected to move on rates or policy. Instead investors will be looking eagerly towards the release of the quarterly GDP and inflation projections, particularly given as the Fed refrained from making projections in March.
The central bank's tone will also be important. Should the Fed sound dovish and stick with the 0 interest rates for longer mantra, the US Dollar could remain depressed. On the other hand, a positive sounding Fed could boost the US Dollar.
The Australian Dollar is buoyant following stronger that expected domestic data. Westpac consumer confidence data showed that sentiment in Australia rebounded in June 6.3% to 93.7, up from May's 88.1. Sentiment has effectively recovered to pre-coronavirus levels thanks to the government's success in bring the coronavirus outbreak under control and amid the continued easing of lockdown measures.
Whilst the Aussie Dollar is pushing higher, Australia – China relations are keeping investors jittery. Tensions have been ratcheting higher between the trading partners since Australia called for an independent inquiry into the origins and spread of covid-19 in China.
Looking ahead Australia consumer inflation expectations data for June will come into focus on Thursday, which could be supportive of the Australian Dollar at 4.2%, up from 3.4%.
---