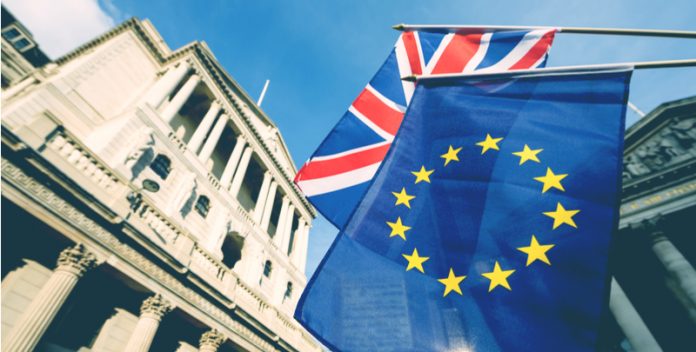 The British pound is higher against the euro on Friday.
The pound staged a late day comeback after poor economic data after the Bank of England dialled back one of its emergency liquidity measures. The release of the latest ECB minutes weighed on the euro as policymakers promised more money printing to come, should the situation warrant it.
Pound versus Euro was higher by 23 pips (+0.20%) to 1.1624 as of 3pm GMT.
GBP/EUR was choppy but held onto lows of the week near 1.115 and ultimately flipped bullish with a near miss of the 1.12 level. The exchange rate is barely changed on the week at -0.12%.
GBP: Extra repo operations wind down
The decision from the Bank of England to wind down its extra 'repo operations' offered some support to Sterling. The program was called the 'contingent term repo facility' (CTRF) and it basically involved offering banks a quick cash injection in return for UK gilts, which will be repurchased again later – either in one month or three months. Since financial markets have calmed down, there has been less need for the extra liquidity.
The broader mood across financial markets was one of uncertainty, which led to gains in the US dollar as a haven. Gains in the dollar seemed to unduly effect the euro that had been making moves to the upside earlier this week, which have since subsided.
Euro: Central bank minutes weigh
The latest European Central Bank (ECB) minutes showed concern from the members that 'economic scenarios may become outdated' – and that it may be necessary to adjust the PEPP (Pandemic Emergency Purchases Program) as early as the next meeting in June. The feeling seems to be that their original projections for the economy may have been too optimistic, and that further support will be needed.
The interest rate decision will be more political than usual in June because of the ruling from the German constitutional court and the proposed 500 billion euro Recovery Fund. Not easing policy could be seen as a sign of weakness in the face of the German court, but adding to monetary stimulus could discourage what's seen as necessary fiscal stimulus from governments.
---