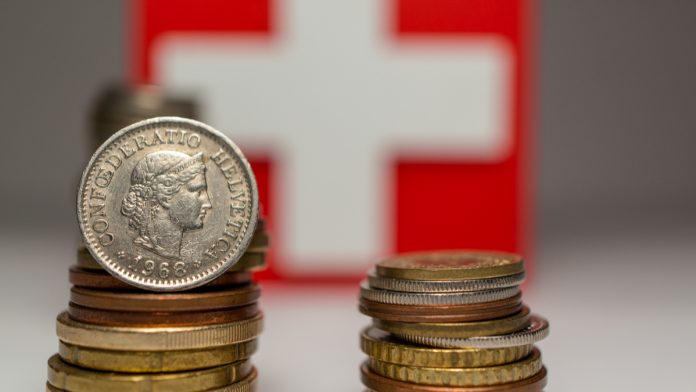 The Swiss Franc is trending southwards versus the Pound on Monday amid an easing of risk aversion in the broader market and as the Swiss National Bank steps up forex purchases.
At 11:15 UTC, GBP/CHF was trading +0.5% at 1.2093, towards the upper end of the daily traded range of 1.2030 – 1.2110.
Swiss Franc Dips As Safe Haven Flows Ease
The safe haven currency was trading on the back foot at the start of the trading week as the gradual reopening of economies across Europe is supporting a broad risk-on climate. Some European countries have now successfully reopened some businesses, open markets and schools, and as of Friday three US states have allowed gyms, beauty salons and hairdressers to start operating. The change in focus towards reopening and restarting economies is providing a boost to riskier currencies and assets, whilst safe havens such as the Swiss Franc and the US Dollar are falling lower.
Data also revealed that the Swiss National Bank has increased its foreign currency purchases in an attempt to counter coronavirus inspired safe haven inflows. The total sight deposits that commercial banks deposit with the SNB overnight rose to 650.651 billion Swiss Francs, from 637.204 billion Francs in the previous week. The resultant 13.4 billion Franc increase was the biggest increase since January 2015 when the SNB halted its currency peg against the euro. According to Reuters, an increase in sight deposits is a proxy for currency intervention by the SNB.
There is no high impacting Swiss economic data due until Wednesday's economic sentiment indicator.
Pound Resilient Despite Boris Johnson's Warning
The Pound advancing across the board as UK Prime Minister Boris Johnson declared that Britain is "turning the tide" on coronavirus and that he is keen to reopen the UK economy. However, his comments came with a warning that it would be premature to lift the lock down now.
Boris Johnson has returned to Downing Street to head up the government once again, after falling ill to coronavirus. Pressure is mounting for the Prime Minister to reveal Britain's exit strategy after a month-long lock down.
The lock down has paralysed the UK economy. Last week data revealed that the composite PMI which looks at service sector and manufacturing output dropped to the lowest level on record, whilst retail sales declined at the fastest pace on record.
---