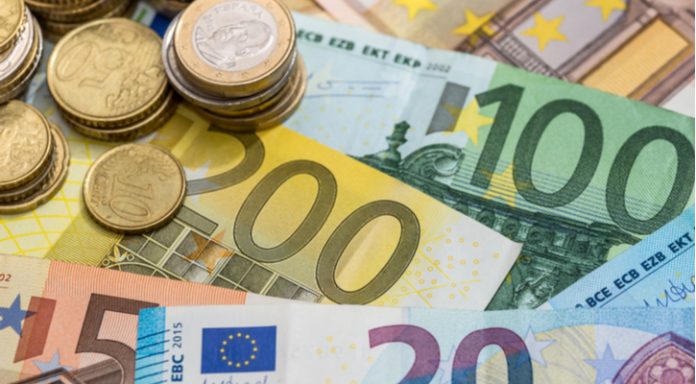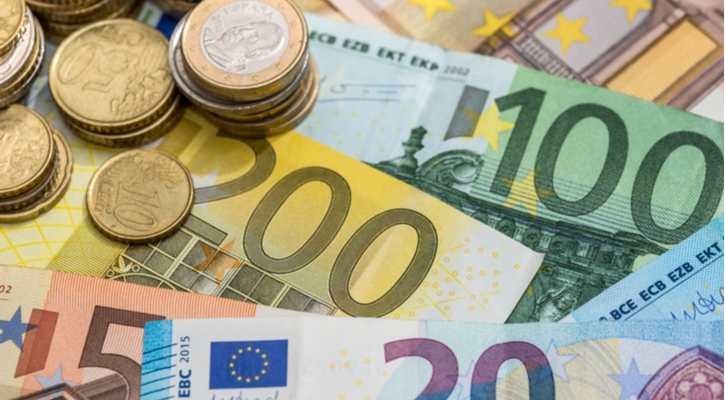 The euro US dollar traded lower on the day on Wednesday, snapping a four-day winning streak. However, the pair but remained above $1.1050.  The euro US dollar exchange rate is holding steady in early trade on Thursday.
Gloomy Macro Data Continues
The euro slipped versus its peers in the previous as investors digested weak data and an eye opening European Central Bank financial stability report. German producer price data was disappointing. The producer price index measures inflation at wholesale level. A weak reading doesn't bode well for future consumer inflation, with a weak figure pointing potentially to further rate cuts down the road. German PPI declined -0.2% month on month in October, below the 0.1% increase from September and below forecasts of 0 growth.
The weak numbers from Germany add to soft eurozone construction output figures earlier in the week. Investors will look ahead to the pmi data released at the end of the week for further clues as to the health of the eurozone economy. Whilst the eurozone and Germany avoided an economic contraction in the third quarter, growth was stagnant at best. There are still concerns over growth in the fourth quarter.
ECB's Financial Stability Report Highlights Lose Monetary Policy Concerns
The ECB financial stability report was also a concern for euro investors. In the report, the ECB warn of the potential damaging side effects of years of loose monetary policy. Years of unprecedented stimuli's, which was designed to boost the economy could be, ironically, contributing to an erosion of financial stability within the bloc. The report comes before todays release of the minutes to the ECB monetary policy meeting.
ECB Minutes To Boost Euro?
The past few ECB meetings have been more divided than usual as the ECB cut interest rates and restarted its quantitative easing programme. Whilst the now departed ECB President Mario Draghi harped on at European governments to do more to support ECB policies, his calls were largely ignored. Some ECB officials have been increasingly vocal about their level of unease over the idea of unlimited quantitative easing. Should the minutes reflect this the euro could get a boost as investors start to price in an ECB that is more reluctant to loosen policy further.
OECD Projected Outlook Report
In addition to the ECB minutes investors will also digest OECD economic outlook figures today. The OECD is expected to release a pessimistic report underscoring slowing global growth. Back in September the OECD's interim report talked of a fragile and uncertain economic environment with mounting downside risks. Not that much has changed since September. Most importantly, the US and China still haven't achieved a phase on trade deal an almost pre-requisite for investment and trade growth to lift. A negative report could drag on the euro.
Finally, eurozone consumer confidence will be in focus. Analysts are expecting household confidence to have increased slightly to -7.2 in October, up from -7.8. A stronger consumer tends to spend more which is good news for the economy and good news for inflation.
FOMC Minutes Ignored & Trump's Trade Deal In Trouble
The dollar barely reacted to the release of the minutes from the Fed's monetary policy meeting, the Federal Reserve Open Market Committee (FOMC) because there were no great surprises. The minutes showed that Fed officials were of the opinion that political risks to growth had eased slightly since the end of the summer. The Fed believed that there were tentative signs that trade tensions were easing, the chances of a no deal Brexit has reduced, whist some other geopolitical issues had also diminished.
Weak business investment and sentiment remain an issue. However, policy members said they saw little indication that weak business sentiment was spilling over in the labour market and consumer spending, which remain robust. Fed officials agreed that policy was appropriate.
With no surprises from the Fed dollar investors' focus remains on US — China trade developments. The chances of the US and China striking a deal at any moment have dropped considerably. As a result, the safe haven dollar has been gaining.
The latest blow to a deal came from the US Senate, as they passed a bill supporting the pro-Democracy protesters in Hong Kong. China, unsurprisingly has been angered by the move, summoning the US ambassador. President Trump could sign the bill into law as soon as today.
The US and China have been unable to agree on the removal of tariffs. This latest show could make reaching an agreement more difficult. Investors will continue to trade US — China headlines.
Mid-Tier Data
Macro data could give the dollar a boost later today. Whilst here are no high impacting releases, mid-tier data such as US existing home sales could be watched. Analysts are predicting that existing home sales increased month on month in October 2.1%. This would be a significant improvement on September's -2.2% decline. A strong reading would be dollar positive.
What do these figures mean?
When measuring the value of a pair of currencies, one set equals 1 unit and the other shows the current equivalent. As the market moves, the amount will vary from minute to minute.
For example, it could be written:
1 EUR = 1.12829 USD
Here, €1 is equivalent to approximately $1.13. This specifically measures the euro's worth against the dollar. If the U.S. dollar amount increases in this pairing, it's positive for the euro. 
Or, if you were looking at it the other way around:
1 USD = 0.88789 EUR
In this example, $1 is equivalent to approximately €0.89. This measures the U.S. dollar's worth versus the euro. If the euro number gets larger, it's good news for the dollar.
---
Currencylive.com is a news site only and not a currency trading platform.
Currencylive.com is a site operated by TransferWise Inc. ("We", "Us"), a Delaware Corporation. We do not guarantee that the website will operate in an uninterrupted or error-free manner or is free of viruses or other harmful components. The content on our site is provided for general information only and is not intended as an exhaustive treatment of its subject. We expressly disclaim any contractual or fiduciary relationship with you on the basis of the content of our site, any you may not rely thereon for any purpose. You should consult with qualified professionals or specialists before taking, or refraining from, any action on the basis of the content on our site. Although we make reasonable efforts to update the information on our site, we make no representations, warranties or guarantees, whether express or implied, that the content on our site is accurate, complete or up to date, and DISCLAIM ANY IMPLIED WARRANTIES OF MERCHANTABILITY OR FITNESS FOR A PARTICULAR PURPOSE. Some of the content posted on this site has been commissioned by Us, but is the work of independent contractors. These contractors are not employees, workers, agents or partners of TransferWise and they do not hold themselves out as one. The information and content posted by these independent contractors have not been verified or approved by Us. The views expressed by these independent contractors on currencylive.com do not represent our views.