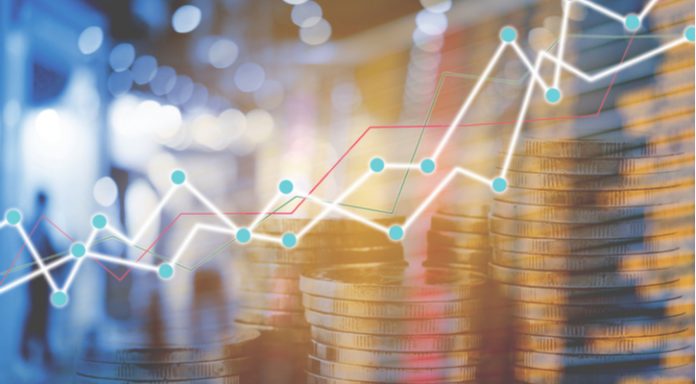 The Australian dollar closed higher versus the US dollar for a third straight session on Tuesday. The Aussie dollar US dollar exchange rate closed UP 0.2% at US$0.6856. The Australian dollar started Wednesday on the front foot. However, the US dollar has since pushed higher, snapping the 3-day winning streak for the pair.
The Australian dollar strengthened in early trade on Wednesday following upbeat inflation numbers. Australian inflation, as measured by the consumer price index (CPI) increased slightly to 1.7% from 1.6% in the three months to September.
The uptick in inflation is pushing investors to believe that he Reserve Bank of Australia (RBA) will be unlikely to cut interest rates in November. Prior to the inflation report market participants were counting on a 14% probability of the RBA cutting rates in November. This has now been reduced to 0. When the prospect of a rate cut declines, the value of the currency often increases.
There is no more economic data due for release today. Investors will look ahead to mid-tier data on Thursday; housing approvals.
Fed In Focus
After drifting lower in early trade, the US dollar jumped following better than forecast US GDP figures. The US economy grew at a solid 1.9% annualised in the third quarter. Whilst the growth is slightly softer than 2% in the second quarter, it is still markedly better than the 1.6% that analyst had forecast. The stronger than predicted growth was down to strong consumer and government spending.
The figures have calmed nerves over the health of the US economy and have dampened fears that the slump in the US manufacturing sector is spilling over into the consumer sector.
Investors will now look towards the Federal Reserve monetary policy rate announcement this evening. Market participants expect the Fed to cut interest rates by 0.25%. Investors will watch carefully to see whether the Fed intends to cut rates again this year. Following the strong GDP data another insurance cut is looking very unlikely. Should the Fed signal that they won't hike again this cycle, the dollar could advance.
What do these figures mean?
When measuring the value of a pair of currencies, one set equals 1 unit and the other shows the current equivalent. As the market moves, the amount will vary from minute to minute.

For example, it could be written:

1 USD = 0.6784 AUD

Here, $1 is equivalent to approximately A$0.67. This specifically measures the US dollar's worth against the Australian dollar. If the Aussie dollar amount increases in this pairing, it's positive for the US dollar.

Or, if you were looking at it the other way around:

1 AUD = 1.4739 USD

In this example, A$1 is equivalent to approximately $1.47. This measures the Australian dollar's worth versus the US Dollar. If the US dollar number gets larger, it's good news for the Aussie dollar.
Currencylive.com is a site operated by TransferWise Inc. ("We", "Us"), a Delaware Corporation. We do not guarantee that the website will operate in an uninterrupted or error-free manner or is free of viruses or other harmful components. The content on our site is provided for general information only and is not intended as an exhaustive treatment of its subject. We expressly disclaim any contractual or fiduciary relationship with you on the basis of the content of our site, any you may not rely thereon for any purpose. You should consult with qualified professionals or specialists before taking, or refraining from, any action on the basis of the content on our site. Although we make reasonable efforts to update the information on our site, we make no representations, warranties or guarantees, whether express or implied, that the content on our site is accurate, complete or up to date, and DISCLAIM ANY IMPLIED WARRANTIES OF MERCHANTABILITY OR FITNESS FOR A PARTICULAR PURPOSE. Some of the content posted on this site has been commissioned by Us, but is the work of independent contractors. These contractors are not employees, workers, agents or partners of TransferWise and they do not hold themselves out as one. The information and content posted by these independent contractors have not been verified or approved by Us. The views expressed by these independent contractors on currencylive.com do not represent our views