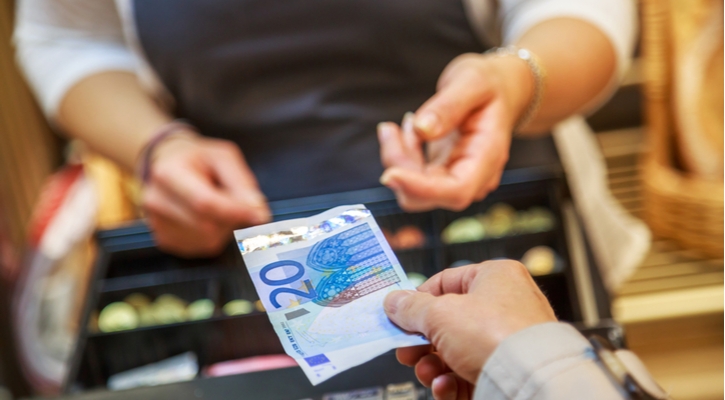 The euro extended losses versus the US dollar on Tuesday. The euro US dollar declined 0.2%, closing Tuesday's session at US$1.1128. The pair is edging higher in early trade on Wednesday.
In absence of any high impacting data euro investors focused on the latest developments in the Brexit drama. Boris Johnson finally had his day in Parliament, putting his deal to MP's.  The euro spiked higher as the Prime Minister won the vote on his Withdrawal Bill Agreement. However, the euro quickly pared gains and dropped into negative territory as the House of Commons rejected the PM's plan to rush the legislation through Parliament.
Euro investors watched the developments in the House of Commons closely because eurozone economies will also benefit from a Brexit deal.
Today investors will look towards eurozone consumer confidence data. Analysts are predicting that sentiment in the bloc deteriorated in October to -6.7, down from -6.5 the previous month. Declining consumer confidence is a problem. This is because when consumer sentiment drops, consumers often spend less because they feel less secure about the outlook. Lower spending slows the economy and means levels of inflation.
Tomorrow is the ECB monetary policy announcement. This is the final meeting with Mario Draghi as President before Christine Lagarde takes over in November. After the ECB eased monetary policy in the previous meeting, analysts are not expecting any further action on Thursday. However, investors will be listening closely for signs of a more dovish stance.
Why do interest rate cuts drag on a currency's value?
Interest rates are key to understanding exchange rate movements. Those who have large sums of money to invest want the highest return on their investments. Lower interest rate environments tend to offer lower yields. So, if the interest rate or at least the interest rate expectation of a country is relatively lower compared to another, then foreign investors look to pull their capital out and invest elsewhere. Large corporations and investors sell out of local currency to invest elsewhere. More local currency is available  as the demand of that currency declines, dragging the value lower.
Dollar Shrugs Off Weak Existing Home Sales Data
It has been a quiet week so far for the US dollar. With little in the way of trade news and an empty US economic calendar on Monday, investors had little to run with. That changed slightly on Tuesday with the release of some mid-tier data.
The dollar gained despite US homes sales falling by more than expected in September, following two straight months of gains. The Federal Reserve have cut interest rates twice this year making mortgages more reasonable. Market participants believe that the Fed could cut rates again this month.
Today thee is no high impacting US economic data. Investors will look ahead to Thursday's durable goods data.
What do these figures mean?
When measuring the value of a pair of currencies, one set equals 1 unit and the other shows the current equivalent. As the market moves, the amount will vary from minute to minute.

For example, it could be written:

1 GBP = 1.13990 EUR

Here, £1 is equivalent to approximately €1.14. This specifically measures the pound's worth against the euro. If the euro amount increases in this pairing, it's positive for the pound.

Or, if you were looking at it the other way around:

1 EUR = 0.87271 GBP

In this example, €1 is equivalent to approximately £0.87. This measures the euro's worth versus the British pound. If the sterling number gets larger, it's good news for the euro.
---
Currencylive.com is a site operated by TransferWise Inc. ("We", "Us"), a Delaware Corporation. We do not guarantee that the website will operate in an uninterrupted or error-free manner or is free of viruses or other harmful components. The content on our site is provided for general information only and is not intended as an exhaustive treatment of its subject. We expressly disclaim any contractual or fiduciary relationship with you on the basis of the content of our site, any you may not rely thereon for any purpose. You should consult with qualified professionals or specialists before taking, or refraining from, any action on the basis of the content on our site. Although we make reasonable efforts to update the information on our site, we make no representations, warranties or guarantees, whether express or implied, that the content on our site is accurate, complete or up to date, and DISCLAIM ANY IMPLIED WARRANTIES OF MERCHANTABILITY OR FITNESS FOR A PARTICULAR PURPOSE. Some of the content posted on this site has been commissioned by Us, but is the work of independent contractors. These contractors are not employees, workers, agents or partners of TransferWise and they do not hold themselves out as one. The information and content posted by these independent contractors have not been verified or approved by Us. The views expressed by these independent contractors on currencylive.com do not represent our views.