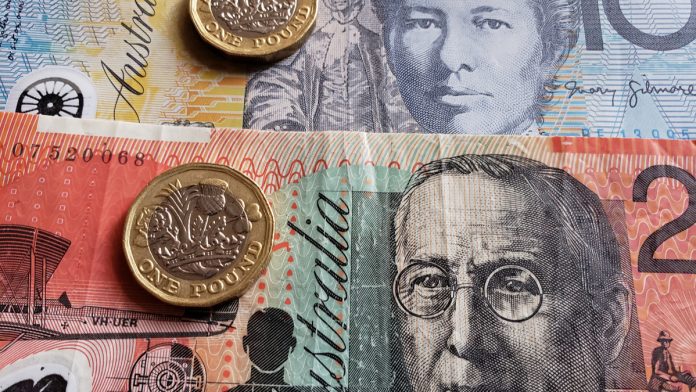 The GBP/AUD pair just broke an ascending support line amid labour market data released by the Australian Bureau of Statistics (ABS).
The pair has declined 0.42% since the start of the European session as of 04:17 AM UTC, breaking the support line of an uptrend that has been around since October 10. Currently, GBP/AUD is trading at 1.88.
ABS Releases Jobs Report
The price action started to point downwards after the ABS published its unemployment data, which turned positive for the AUD.
Australia's unemployment rate slightly fell to 5.2% in September, from 5.3% the previous month, thanks to a small decline in the proportion of citizens looking for work. The ABS said that the country had added 14,700 jobs last month, which is a bit lower than what most analysts expected.
The result suggests that the Australian economy has recorded three years of consecutive monthly jobs growth.
However, the unemployment rate is still well above the central bank's long-term target of 4.5%. Thus, further declines are needed until the Reserve Bank of Australia (RBA) slows down its aggressive stimulus.
RBA Deputy Governor Guy Debelle's Speech
Earlier today, Guy Debelle, Deputy Governor at the RBA, said that Australia's housing downturn was affecting household consumption and continued to put pressure on the GDP growth and inflation despite three rate cuts.
Nevertheless, he said that an increase in home prices in the last few months, along with record low interest rates, would revive property construction by 2021.
BoE Open for Stimulus Measures
The Bank of England (BoE) would perhaps require stimulus measures in the bank lending sector in the case of a new downturn in the country's economy, BoE Governor Mark Carney stated on Wednesday. He added that the government's fiscal policy would also help.
If the British economy, which might go towards a no-deal Brexit shock, experiences another slap, the central bank might cut the countercyclical capital buffer (CCyB) rate to zero, from 1% at the moment.
Speaking at an event at Harvard University, Carney said:
"You certainly can paint scenarios, globally and then in the UK, where that may not be enough. And certainly you can paint scenarios where you want to do some of that, but you absolutely want to complement it by fiscal policy."
This publication is provided as general information only and is not intended as an exhaustive treatment of its subject. TransferWise Inc. and its affiliates ("we" or "us") expressly disclaim any contractual or fiduciary relationship with you on the basis of the content of this publication, and you may not rely thereon for any purpose. You should consult with qualified professionals or specialists before taking, or refraining from, any action on the basis of the content in this publication. The information in this publication does not constitute legal, tax, investment or other professional advice from us.  We make no representations, warranties or guarantees, whether express or implied, that the content in the publication is accurate, complete or up to date, and DISCLAIM ANY IMPLIED WARRANTIES OF MERCHANTABILITY OR FITNESS FOR A PARTICULAR PURPOSE.