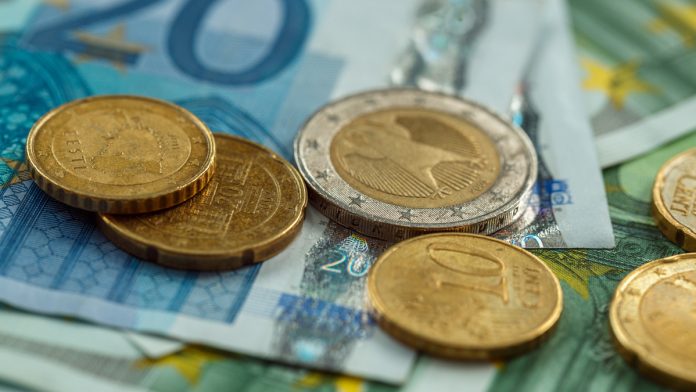 The euro US dollar exchange rate is recovering from losses in the previous session and has pushed back above US$1.10 following encouraging data from Germany.
After a shaky start the euro is cautiously advancing on Tuesday, paring some of the losses from trading on Monday. Disastrous manufacturing PMI data from both Germany and the eurozone on Monday raised fears of a recession in the region, which had dragged on demand for the euro.
Today, however, investors are cheering some more upbeat data. The German IFO sentiment index increased marginally to 94.6 in September, up from 94.3 in August. The better than expected data boosted the euro.
However, there is a chance that investors are reading too much into this. As the IFO warned, today's data is by no means indicating a change of trend. It is merely "the slowdown taking a break". Whilst euro investors are happy to run with the better than forecast numbers, the reality is that Europe's largest economy is likely to shrink again in the third quarter as it tumbles into recession.
With no further eurozone economic data releases due today, investors will look ahead to tomorrow's eurozone consumer confidence. Any signs that the slowdown in the manufacturing sector is spilling over into the consumer sector could unnerve euro investors.
Why does poor economic data drag on a country's currency?
Slowing economic indicators point to a slowing economy. Weak economies have weaker currencies because institutions look to reduce investments in countries where growth prospects are low and then transfer money to countries with higher growth prospects. These institutions sell out of their investment and the local currency, thus increasing supply of the currency and pushing down the money's worth. So, when a country or region has poor economic news, the value of the currency tends to fall.
Dollar Eyes Consumer Confidence Figures
Global growth concerns triggered risk aversion in the previous session, boosting the dollar. After dire manufacturing PMI data from Germany and the Eurozone investors grew nervous over the impact that the US — Sino trade dispute was having on the global economy. In times of heightened geopolitical or economic stress investors often buy into the dollar for its safe haven properties.
Today the dollar is edging marginally lower as investors react to comments from US Treasury Secretary Steve Mnuchin that he and US Trade representative would meet with Chinese Vice Premier Liu He for trade talks in two weeks. These latest developments suggest that some progress has been made in easing trade tensions between the two powers.
Investors will now switch their attention to US consumer confidence. Analysts are predicting that consumer confidence will slip slight to 133.4 in September. However, overall confidence remains elevated underpinned by a strong labour market. A strong reading could boost the dollar.
What do these figures mean?
When measuring the value of a pair of currencies, one set equals 1 unit and the other shows the current equivalent. As the market moves, the amount will vary from minute to minute.

For example, it could be written:

1 EUR = 1.12829 USD

Here, €1 is equivalent to approximately $1.13. This specifically measures the euro's worth against the dollar. If the U.S. dollar amount increases in this pairing, it's positive for the euro.

Or, if you were looking at it the other way around:

1 USD = 0.88789 EUR

In this example, $1 is equivalent to approximately €0.89. This measures the U.S. dollar's worth versus the euro. If the euro number gets larger, it's good news for the dollar.
This publication is provided as general information only and is not intended as an exhaustive treatment of its subject. TransferWise Inc. and its affiliates ("we" or "us") expressly disclaim any contractual or fiduciary relationship with you on the basis of the content of this publication, and you may not rely thereon for any purpose. You should consult with qualified professionals or specialists before taking, or refraining from, any action on the basis of the content in this publication. The information in this publication does not constitute legal, tax, investment or other professional advice from us.  We make no representations, warranties or guarantees, whether express or implied, that the content in the publication is accurate, complete or up to date, and DISCLAIM ANY IMPLIED WARRANTIES OF MERCHANTABILITY OR FITNESS FOR A PARTICULAR PURPOSE.