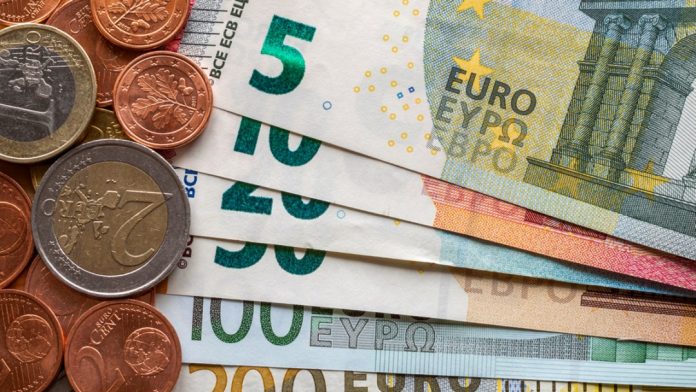 The euro advanced versus the weaker dollar on Thursday, closing up 0.14% at US$1.1044. The pair is trending higher again in early trade on Friday.
The European Central Bank (ECB) loosened monetary policy last week by restarting its bond buying programme and cutting overnight deposit rates. However, the euro has remained relative buoyant and this is because the ECB also stressed the need for individual countries in the bloc to support monetary policy by increasing fiscal spending. Signs that governments, such as France, are in favour of increasing fiscal spending is supporting the euro. This is because higher fiscal spending creates inflationary pressures. As a result, the central bank , in this case the ECB, would be less inclined to cut interest rates further.
Data also boosted the mood towards the euro on Friday. Figures showed that inflation at factory level in Germany increased by more than what analysts had been expecting. Inflation as measured by producer price index (ppi) increased 0.5% month on month in August. This is ahead of the -0.2% decline that analysts had pencilled in.
The ppi measure of inflation is closely watched by market participants because an increase of inflation at factory level often points to an increase of inflation at consumer level later down the line. When inflation increases central banks are more inclined to hike rates rather than cut interest rates.
Why do raised interest rates boost a currency's value?
Interest rates are key to understanding exchange rate movements. Those who have large sums of money to invest want the highest return on their investments. Higher interest rate environments tend to offer higher yields. So, if the interest rate or at least the interest rate expectation of a country is relatively higher compared to another, then it attracts more foreign capital investment. Large corporations and investors need local currency to invest. More local currency used then boosts the demand of that currency, pushing the value higher.
Investors will now turn their attention to eurozone consumer sentiment. Over the past few months consumer confidence has zigzagged as optimism over personal finances and employment prospects tussle with pessimism overt the general economic outlook. Analysts are expecting a reading of -7, up marginally from 7.1 in July. A stronger reading could boost the euro.
Dollar Investors Eye Developments in Middle East
The dollar pared post FOMC gains in the previous session despite positive data releases. Both US jobless claims and US home sales were better than what analysts had predicted. The upbeat data supports the Federal Reserve Chairman Jerome Powell's assessment that the US economy will stay strong.
This week has been a busy week for data and central bank decisions. Today is a much quieter day, with no high impacting data due for release. Dollar investors could turn their attention to developments in the Middle East after the Saudi oil attack. US Secretary of State Mike Pompeo is in Saudi Arabia. Any signs of a strong retaliation from the US could boost the dollar owing to its safe haven appeal.
What do these figures mean?
When measuring the value of a pair of currencies, one set equals 1 unit and the other shows the current equivalent. As the market moves, the amount will vary from minute to minute.

For example, it could be written:

1 EUR = 1.12829 USD

Here, €1 is equivalent to approximately $1.13. This specifically measures the euro's worth against the dollar. If the U.S. dollar amount increases in this pairing, it's positive for the euro.

Or, if you were looking at it the other way around:

1 USD = 0.88789 EUR

In this example, $1 is equivalent to approximately €0.89. This measures the U.S. dollar's worth versus the euro. If the euro number gets larger, it's good news for the dollar.
This publication is provided as general information only and is not intended as an exhaustive treatment of its subject. TransferWise Inc. and its affiliates ("we" or "us") expressly disclaim any contractual or fiduciary relationship with you on the basis of the content of this publication, and you may not rely thereon for any purpose. You should consult with qualified professionals or specialists before taking, or refraining from, any action on the basis of the content in this publication. The information in this publication does not constitute legal, tax, investment or other professional advice from us.  We make no representations, warranties or guarantees, whether express or implied, that the content in the publication is accurate, complete or up to date, and DISCLAIM ANY IMPLIED WARRANTIES OF MERCHANTABILITY OR FITNESS FOR A PARTICULAR PURPOSE.