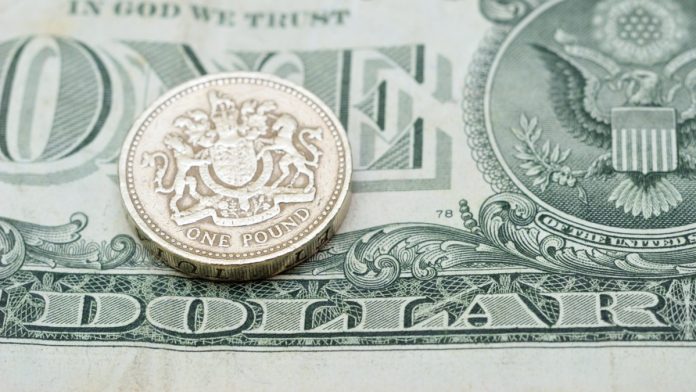 Further political confusion sent the pound lower on Wednesday. The pound US dollar exchange rate snapped a two-day winning streak dropping to a low of US$1.2313. The pound is holding steady in early trade on Thursday.
What do these figures mean?
When measuring the value of a pair of currencies, one set equals 1 unit and the other shows the current equivalent. As the market moves, the amount will vary from minute to minute.

For example, it could be written:

1 GBP = 1.28934 USD

Here, £1 is equivalent to approximately $1.29. This specifically measures the pound's worth against the dollar. If the US dollar amount increases in this pairing, it's positive for the pound.

Or, if you were looking at it the other way around:

1 USD = 0.77786 GBP

In this example, $1 is equivalent to approximately £0.78. This measures the US dollar's worth versus the British pound. If the sterling number gets larger, it's good news for the dollar.
Despite Parliament being suspended, political headlines still managed to move the pound in the previous session. Whilst Boris Johnson had lost several votes in Parliament, until yesterday he had fared better in court.
However, on Wednesday Prime Minister Boris Johnson was defeated in a Scottish court ruling over the suspension of Parliament.  The unanimous decision by a panel of Scottish appeal judges has thrown the deadlocked political system into more confusion just 6 weeks from the day the UK is due to leave the European Union. The UK Supreme Court ruling next week will decide whether MP's will return to Westminster.
There is no UK data due for release today. Pound investors will remain focused on Brexit news flow and domestic political developments.
Will US Inflation Data Weigh On Dollar?
The US dollar gained ground in the previous session as investors grew increasingly cautious ahead of several central bank announcements over the coming weeks. Investors are particularly nervous ahead of the European Central Bank (ECB) rate decision today. This has been supportive of the safe haven US dollar.
Today dollar investors will look towards US inflation data as market participants try to figure out whether there is a need for a further rate cut ahead of the Federal Reserve monetary policy meeting next week. Analysts are expecting the consumer price index (CPI) measure of inflation to dip to 1.7% in August, down from 1.8% in July. This is would be uncomfortably below the Fed's 2% target. Should inflation. However, analysts forecast that core inflation could move higher to 2.3%.
Any weakness in the figures could prompt market participants expect a rate cut from the Federal Reserve later this month. This could drag the dollar lower.
Why do interest rate cuts drag on a currency's value?
Interest rates are key to understanding exchange rate movements. Those who have large sums of money to invest want the highest return on their investments. Lower interest rate environments tend to offer lower yields. So, if the interest rate or at least the interest rate expectation of a country is relatively lower compared to another, then foreign investors look to pull their capital out and invest elsewhere. Large corporations and investors sell out of local currency to invest elsewhere. More local currency is available  as the demand of that currency declines, dragging the value lower.
Currencylive.com  is a site operated by TransferWise Inc. ("We", "Us"), a Delaware Corporation. 
The content on our site is provided for general information only. It is not intended to amount to advice on which you should rely. You must obtain professional or specialist advice before taking, or retain from, any action on the basis of the content on our site.
Although we make reasonable efforts to update the information on our site, we make no representations, warranties or guarantees, whether express or implied, that the content on our site is accurate, complete or up to date. Some of the content posted on this site has been commissioned by Us, but is the work of independent contractors. These contractors are not employees, workers, agents or partners of TransferWise and they do not hold themselves out as one. The information and content posted by these independent contractors have not been verified or approved by Us. The views expressed by these independent contractors on currencylive.com do not represent our views.