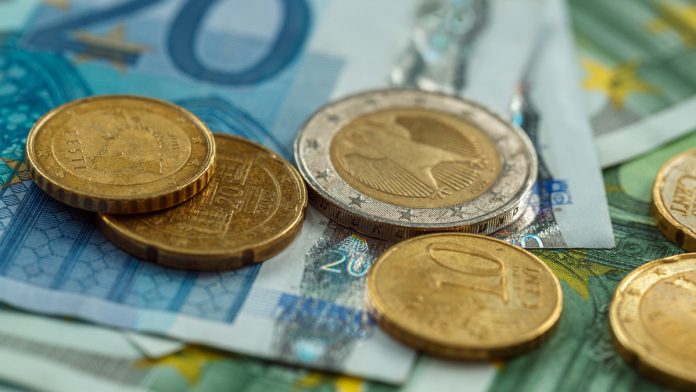 The pound soared versus the euro for the fourth straight session on Thursday. After 14 consecutive weeks of losses the pound is finally on track to gain against the common currency. The pound euro exchange rate rallied to a 10-day high of €1.0920. The pair is advancing again in early trade on Friday.
What do these figures mean?
When measuring the value of a pair of currencies, one set equals 1 unit and the other shows the current equivalent. As the market moves, the amount will vary from minute to minute.
For example, it could be written:
1 GBP = 1.13990 EUR
Here, £1 is equivalent to approximately €1.14. This specifically measures the pound's worth against the euro. If the euro amount increases in this pairing, it's positive for the pound
Or, if you were looking at it the other way around:
1 EUR = 0.87271 GBP
In this example, €1 is equivalent to approximately £0.87. This measures the euro's worth versus the British pound. If the sterling number gets larger, it's good news for the euro.
British retail sales unexpectedly jumped in July supporting the pound. Boosted by the strongest online spending three years, UK retail sales increased 0.2% in July month on month. Economists had predicted a decline of -0.2%. The figures show that British consumers are not fazed by the upcoming Brexit deadline. A strong labour market is clearly offering support with 115,000 jobs added in the three months to June.
Strong UK retail sales made for a hat-trick of impressive UK economic data this week. Wage growth increased at the fastest pace in 11 years, inflation unexpectedly moved above the Bank of England 2% target and retail sales beat analyst's expectation. The strong readings have raised hopes that the UK economy will pick up after contracting in the second quarter. A stronger economy means the BoE could be more likely to hike interest rates rather than cut rates. As a result, the pound moved higher.
Why do raised interest rates boost a currency's value?
Interest rates are key to understanding exchange rate movements. Those who have large sums of money to invest want the highest return on their investments. Higher interest rate environments tend to offer higher yields. So, if the interest rate or at least the interest rate expectation of a country is relatively higher compared to another, then it attracts more foreign capital investment. Large corporations and investors need local currency to invest. More local currency used then boosts the demand of that currency, pushing the value higher.
With no high impacting UK economic data to focus on Brexit headlines will be closely followed on Friday. Whilst Parliament in closed for the summer recess MP's are plotting to find a way to block a no deal Brexit.
Euro Sinks On ECB Stimulus Expectations
The euro was out of favour in the previous session amid continued recession concerns and following dovish comments from European Central Bank (ECB) policymaker Rehn.
Earlier in the week German GDP data showed that the German economy contracted in the second quarter as the exporter is caught up in the US — Sino trade war.  With Germany, Europe's largest economy in contraction fears are growing the slowdown could easily tip over into the rest of Europe.
As economic slowdown fears grow, investor expectations are also growing that the ECB will adopt a loser monetary policy. This was supported by ECB policy maker Rehn, who said that the central bank will need to come up with a "significant and impactful policy package" when they meet in September.
——
Currencylive.com is a site operated by TransferWise Ltd ("We", "Us"). We are registered in England and Wales under company number 07209813 and have our registered office at 6th Floor, Tea Building, 56 Shoreditch High Street, London, England, E1 6JJ. The content on our site is provided for general information only. It is not intended to amount to advice on which you should rely. You must obtain professional or specialist advice before taking, or retain from, any action on the basis of the content on our site. Although we make reasonable efforts to update the information on our site, we make no representations, warranties or guarantees, whether express or implied, that the content on our site is accurate, complete or up to date. Some of the content posted on this site has been commissioned by Us, but is the work of independent contractors. These contractors are not employees, workers, agents or partners of TransferWise and they do not hold themselves out as one. The information and content posted by these independent contractors have not been verified or approved by Us. The views expressed by these independent contractors on currencylive.com do not represent our views.