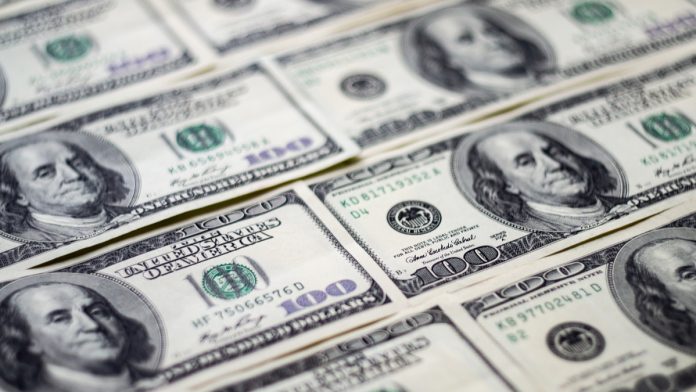 Dismal German data, stronger US inflation figures and reports of tariff delays on some Chinese imports sent the euro US dollar exchange rate southwards on Tuesday. The pair declined to a nadir of US$1.1166. The euro US dollar exchange rate is nudging lower in early trade on Wednesday.
What do these figures mean?
When measuring the value of a pair of currencies, one set equals 1 unit and the other shows the current equivalent. As the market moves, the amount will vary from minute to minute.
For example, it could be written:
1 EUR = 1.12829 USD
Here, €1 is equivalent to approximately $1.13. This specifically measures the euro's worth against the dollar. If the U.S. dollar amount increases in this pairing, it's positive for the euro. 
Or, if you were looking at it the other way around:
1 USD = 0.88789 EUR
In this example, $1 is equivalent to approximately €0.89. This measures the U.S. dollar's worth versus the euro. If the euro number gets larger, it's good news for the dollar.
Concerns over the health of the German economy drove the euro lower in the previous session. German ZEW sentiment indicators dropped -44.1 in August. This was significantly lower than the -28.5 decline that city analysts had pencilled in. The gloomy outlook towards the Germany economy is the worst that it has been in eight year amid rising concerns over the ongoing US — Sino trade dispute and fears of a disorderly Brexit.
Today Germany will remain in focus with the release of German GDP figures. Given the recent barrage of disappointing German data, analysts are expecting to see the German economy contracted in the second quarter by -0.3%. This would confirm that Europe's largest economy and the world's third largest exporter is being hit by slowing global trade amid the ongoing US — Sino trade dispute. A weaker Germany economy could raise expectations that the European Central Bank will loosen monetary policy when it next meets in September.
Why do interest rate cuts drag on a currency's value?
Interest rates are key to understanding exchange rate movements. Those who have large sums of money to invest want the highest return on their investments. Lower interest rate environments tend to offer lower yields. So, if the interest rate or at least the interest rate expectation of a country is relatively lower compared to another, then foreign investors look to pull their capital out and invest elsewhere. Large corporations and investors sell out of local currency to invest elsewhere. More local currency is available  as the demand of that currency declines, dragging the value lower. 
Dollar Investors Focus On Trade Dispute Developments
The dollar was in demand in the previous session as investors digested stronger than forecast inflation data and as investors cheered reports that the Trump administration has decided to postpone tariffs on some Chinese imports until December.
US inflation unexpectedly ticked higher in July to 1.8% ahead of the 1.7% forecast. Core inflation, which discounts more volatile items such as food and fuel increased to 2.2%, ahead of the 2.1% forecast. Stronger inflation offered some support to the dollar.
The dollar extended gains following reports that tariffs on products including laptops and mobile phones will be delayed until Christmas, in a bid to ease fears of the US — Sino trade war on the US economy. There hasn't been any good news regarding the ongoing trade dispute for some time so this report produced a relief rally in the dollar. Any sign of an easing in the US -Sino dispute is good news for the US economy.
China's vice premier Liu He, US Trade Representative Robert Lighthizer and Steven Mnuchin US Treasury Secretary, have agreed to speak again in two weeks.
---

Currencylive.com is a site operated by TransferWise Ltd ("We", "Us"). We are registered in England and Wales under company number 07209813 and have our registered office at 6th Floor, Tea Building, 56 Shoreditch High Street, London, England, E1 6JJ. The content on our site is provided for general information only. It is not intended to amount to advice on which you should rely. You must obtain professional or specialist advice before taking, or retain from, any action on the basis of the content on our site. Although we make reasonable efforts to update the information on our site, we make no representations, warranties or guarantees, whether express or implied, that the content on our site is accurate, complete or up to date. Some of the content posted on this site has been commissioned by Us, but is the work of independent contractors. These contractors are not employees, workers, agents or partners of TransferWise and they do not hold themselves out as one. The information and content posted by these independent contractors have not been verified or approved by Us. The views expressed by these independent contractors on currencylive.com do not represent our views.